This video and article cover how to make updates to your product table manually, specifically using the Edit Table tool.
Edit Table view is the quickest and easiest way to update, remove, and add items to AMP. With this tool, these edits can be made directly in AMP without needing Excel.
To use the Edit Table tool:
Navigate to Manage Catalog, and then the Products tab in the AMP CMS.
Open the ACTIVE TABLE.
Click Edit Table button in the grey table editing bar.
Items can be updated, removed, and added with this tool:
Update Items - click on a cell and start typing to update it. Changes are saved every 60 seconds automatically or click the green Save button to save on demand.
Remove Items - right click on a row and select Remove Row to remove an item. Select multiple rows to remove in bulk.

Add Items - type the SKU you want to add in the Add a SKU input in the top left. Choose whether you want the SKU to be added above or below your currently selected cell and click Add to add it to the table. Once added, you can fill in the rest of the columns for the new item.
To make your job even easier, there are a few features that can make working in Edit Table super efficient:
Hide columns and hidden items - click Table Settings.

Click Discovery Mode to select all SKUs and only the most important columns. This mode is good for quickly hiding and activating SKUs. Click Work Mode to select only active SKUs and all non-hidden columns. Aside from these Presets, you can also toggle columns on and off as you need. Click Re-Load to return to Edit Table with your new adjustments.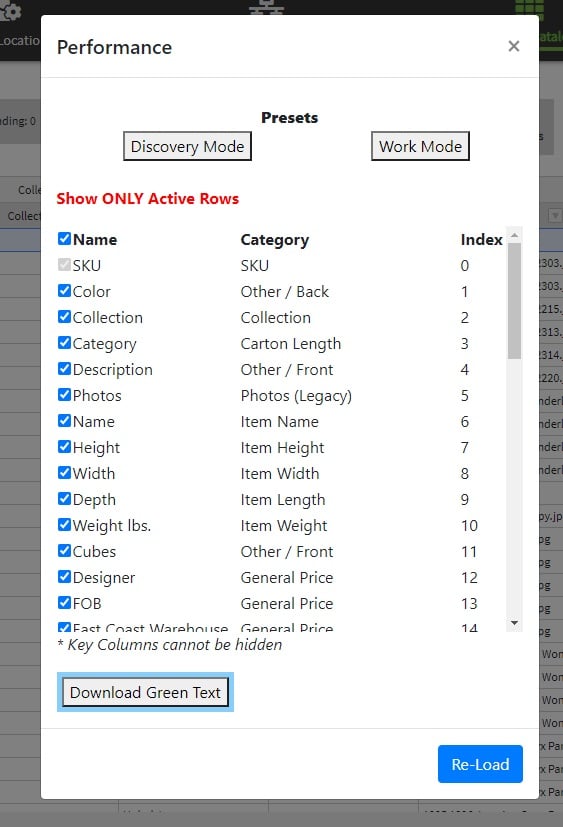 Freeze columns - right click on a column and select Freeze Column. Repeat if you want multiple columns frozen. Columns freeze left to right. Frozen columns will follow you as you scroll left and right. Right click an already frozen column and select Unfreeze Column to unfreeze a column.
Sort, Search, and Filter - click the second column header for a column to sort by that column. Click again to sort the other direction. Click the downward facing triangle next to a column header to bring up search and filter options for that column. Click Clear, type a search in the search bar, then click Select All to filter the catalog by your search. Click the Filter by condition dropdown, select an option, and fill out the value input if needed to filter the column by a condition.
Fill down - select a cell or multiple cells. Click and drag on the little blue box in the bottom right of your selected cells to fill the values of the cell(s) down to other cells below.
Last updated 8-26-2021